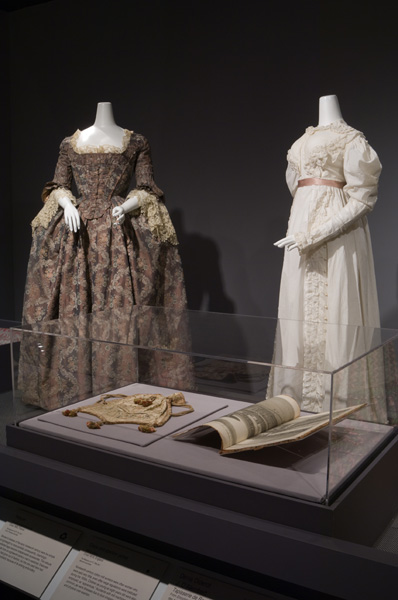 Robe à la française - Lavender and pink silk brocade - Circa 1760, Denmark - Museum purchase, P84.8.1
Brocaded silks of the eighteenth century were some of the most elaborate and costly fabrics available. They were woven manually, on draw looms that required at least two people to operate. Silk gowns held such value that they were often meticulously cared-for and altered for continued wear—and thus were early models of sustainability.
---


Dress and spencer jacket - White cotton - Circa 1819, England - Museum purchase, P88.28.2
Nineteenth-century cotton mill workers were often women who were paid very little, even after wage regulations were instituted during the 1830s. Children as young as eight years old were also employed, as "apprentices." Accidents with mill machinery were common, as were illnesses due to dust inhalation, excessive heat, and physical over-exertion.
---