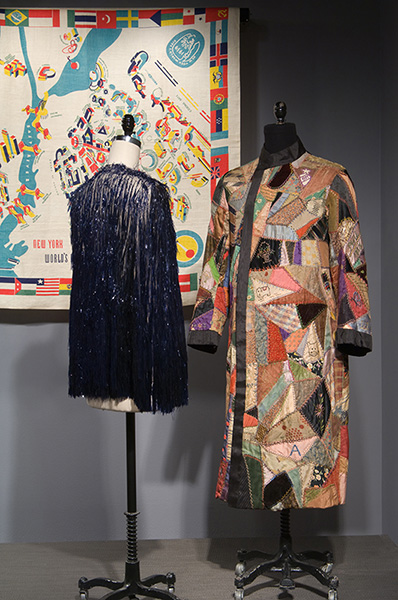 Lucien Lelong - Evening cape - Dark blue cellophane, navy tulle - 1934, France - Gift of Fernanda Munn Kellogg, 76.196.30
This shimmery cape is made of cellophane, a material manufactured from regenerated wood, cotton, or hemp. Cellophane epitomized modernity in the 1920s and 1930s, making it an alluring choice for a variety of fashion accessories. It is biodegradable, but its manufacture creates pollutants. Production is no longer as widespread as it was in cellophane's heyday.
---

Man's dressing gown - Multicolor patchwork, black moiré silk - 1935, USA - Gift of Jack Peterkin, 90.111.4
This dressing gown was cut from a nineteenth-century crazy quilt— an object that already had been made from leftover scraps of fabric. The quilt may have been a dilapidated, otherwise unusable, family heirloom. Its conversion into a robe demonstrates a clever, perhaps necessary, reuse of materials during the Great Depression.
---

Marguerita Mergentime - Tablecloth - Screen-printed linen - 1939, USA - Museum purchase, P88.62.4
This apron and tablecloth are souvenirs of the 1939 World's Fair in New York City. The fair's theme, "The World of Tomorrow," was used to promote corporate industry and new technologies (DuPont showcased nylon). Ironically, these commemorative textiles are more representative of "yesterday," as they were probably hand screen-printed onto fabrics made of natural fibers. Furthermore, the tablecloth is signed like a one-of-a-kind artwork, and the "Sew and Save" apron expresses a do-it-yourself sentiment antithetical to mass production.
---