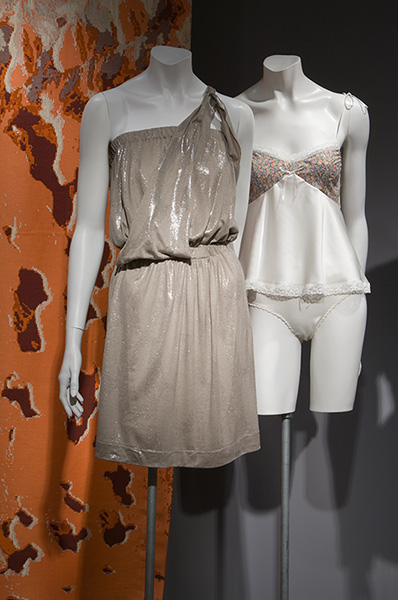 Ciel - (Sarah Ratty) - Dress - Grey and printed silver metallic lyocell - 2010, England - Gift of Ciel, 2010.47
This dress is made from lyocell, a cellulose fiber that utilizes a closed-looped manufacturing process to eliminate waste. Eco-fashion pioneer Sarah Ratty has stated that "sustainability means creating things that are considered from cradle to cradle." The first step of her design process is to select fabric that is beautiful, ethically-produced, and biodegradable.
---



Enamore - (Jennifer Ambrose) - Miss Rose lingerie ensemble: camisole and underwear, eyemask - White organic silk, multicolor vintage cotton calico, brown and peach herbal-dyed silk - 2010, England - Gift of Enamore, 2010.17.1
Enamore's Jennifer Ambrose is one of the few eco-designers to offer a selection of beautiful lingerie, which ranges from charmingly demure to overtly sexy. She often combines vintage and organic fabrics (from accredited suppliers) to create a retro "pin-up" look. All her garments are made in Britain under fair labor conditions.
---
Hil Driessen - Reef - Furnishing fabric - Mercerized cotton and viscose, computer jacquard - 2003, Into Focus collection, The Netherlands - Gift of Hil Driessen, 2005.79.1
Reef was intricately woven using computer aided design (CAD) to create the pattern and operate the jacquard loom. The textile was included in Porcelain Cabinet—an installation by Driessen and spatial designer Toon van Deyne—in which the artists reinterpreted, using cutting-edge technology, the "sumptuous aura" of seventeenth-century cabinets and the labor-intensive processes required to make them.
---