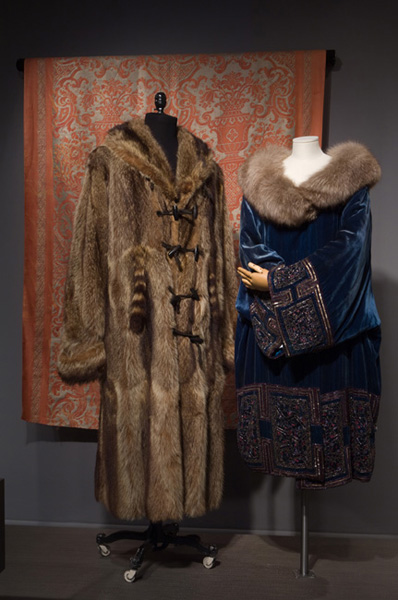 Man's coat - Raccoon fur, wood toggles - Circa 1920, USA - Museum purchase, P88.78.1
Raccoon fur coats became tremendously popular as casual wear among college men of the 1920s. However, animal rights advocates protested the cruelty of steel traps that would wound animals but not immediately kill them. Fur harvested from farmed animals was proposed as a more humane alternative.
---


Dressing gown - Silk faille, velvet, fur - 1870s, USA - Museum purchase, P82.22.1
The exceptionally high-quality embroidery on this at-home garment was done by hand. The deep, rich colors were probably chemically produced. The fur collar and hem would provide some warmth, but function mostly as a display of wealth. The use of fur—increasingly prevalent during the latter nineteenth century—was not yet controversial.
---

Mariano Fortuny & Co. - (Mariano Fortuny) - Carnavalet - Furnishing fabric - Stenciled cotton - Circa 1927-1935, Italy - Museum purchase, P87.39.1
This furnishing fabric shows Fortuny's reinterpretation of Renaissance textile techniques and Baroque motifs. Dissatisfied with the industrial printing methods and chemical dyestuffs of his time, Fortuny patented his own roller stencil and screen-printing apparatus—a precursor to modern-day rotary screen-printing machines—and imported raw ingredients from around the world to make his own dyes.
---