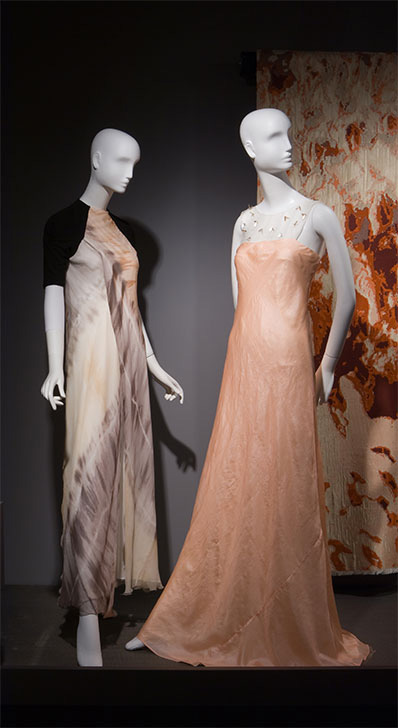 Linda Loudermilk - Cloud dress - Bamboo fleece, printed silk chiffon - Spring 2010 - Museum purchase, 2010.45
Influential eco-designer Linda Loudermilk carefully sources the materials she uses in her luxury eco® garments. She is committed to working with fabric and fiber manufacturers who strive to minimize fashion's environmental impact. Loudermilk has also developed a campaign—the "Luxury Eco Stamp of Approval"—to help shoppers identify other high-end, environmentally friendly products.
---


Isoude - (Katie Brierley) - Eirene evening gown - Coral tussah silk, Mabe pearl shell - 2010, USA - Gift of Katie Brierley, 2010.18.1
Katie Brierley combines her sophisticated aesthetic with a thoughtful approach to design. The tussah silk—harvesting of which does not harm the silkworm—was woven on antique looms in India and hand-colored by Cheryl Kolander using a natural Madder root dye. The subtle chevron embellishments, made by the Zanzibar Women's Pearl Shellcraft Cooperative and jeweler William Elliot Drake, utilize portions of the Mabe pearl shell that are usually discarded.
---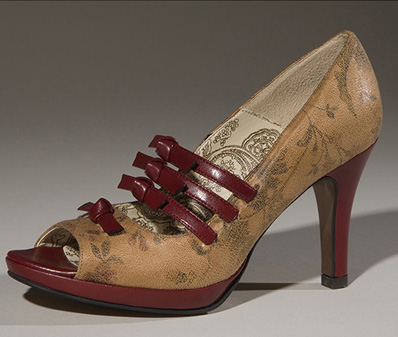 Charmoné - (Lauren Carroll and Jodi Koskella) - Cezanne pumps - Tan and red microfiber faux leather - 2010, USA - Gift of Lauren Carroll and Jodi Koskella of Charmoné, 2010.8.1
Charmoné's cruelty-free shoes are made from microfiber faux leather. This breathable, colorfast material does not contain PVC, and it is significantly less polluting to produce than is traditional leather. The company's eco-friendly mission extends to all aspects of its brand, including recycled-paper shoeboxes. Five percent of Charmoné's profits go to eco-charities.
---

Hil Driessen - Reef - Furnishing fabric - Mercerized cotton and viscose, computer jacquard - 2003, Into Focus collection, The Netherlands - Gift of Hil Driessen, 2005.79.1
Reef was intricately woven using computer aided design (CAD) to create the pattern and operate the jacquard loom. The textile was included in Porcelain Cabinet—an installation by Driessen and spatial designer Toon van Deyne—in which the artists reinterpreted, using cutting-edge technology, the "sumptuous aura" of seventeenth-century cabinets and the labor-intensive processes required to make them.
---