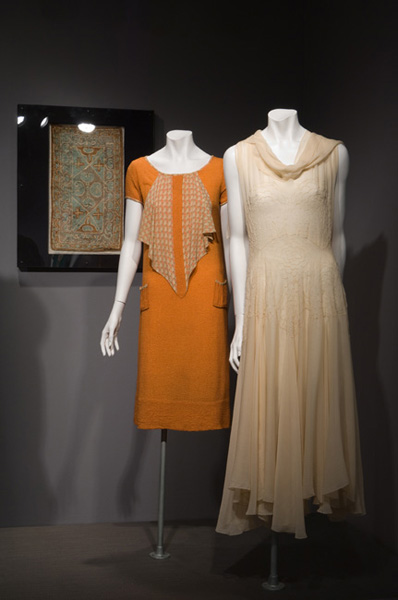 Dress - Orange rayon/cotton blend, multicolored floral cotton - Circa 1926, USA - Gift of Mr. and Mrs. Charles Easton, 80.50.2
Rayon was frequently used during the 1920s for low-priced clothing, such as this simple knit dress. Chemically produced from cellulose, rayon is considered the first manmade fiber, and was initially marketed as a silk substitute. Between 1911 and 1924, rayon production increased 80 percent. According to recent studies, it may actually biodegrade faster than cotton.
---


Madeleine Vionnet - Dress - Ivory silk georgette - Circa 1931, France - Museum purchase, P83.39.7
Vionnet began working as a seamstress at age 11. "I remember the horrible work conditions when I was a girl," she stated, "and I wanted our ateliers to be the best." Vionnet's treatment of her employees was as innovative as her clothing: she was the first couturier to offer paid vacations and coffee breaks.
---