Mainbocher for United States Navy, WAVES uniform, navy blue wool, 1942, USA, gift of Mrs. C.W. Vernon Jr.
200 Years of Political Fashion on View

Dress reform movements of the nineteenth century were subversive of certain societal norms. "Aesthetic" dress, for example, rejected the rigid silhouette of Victorian fashion in favor of loose-fitting garments. Some women also promoted bloomer reform styles and divided skirts as a healthier, more rational approach to dressing. By the late nineteenth century, bifurcated styles had found their way into sportswear, although they were never widely adopted as fashionable dress.

Politics & Fashion in the Blogosphere
IN POLITICAL FASHION -
cont'
Crikey, July 9
Political Fashion Semiotics 101: the implications of politicians' clothes
Hello Magazine (U.K.), June 23
Elegant sheikh's wife proves Carla's fashion equal while Rania drops in on Downing St
New York Times, Nov. 12, 2008
Fashion & Politics
The Telegraph (U.K.), June 23
The Royal Wardrobe: Fashion fit for Queen Elizabeth II
Time Magazine, June 24
Fearless Fashion in the Former East Germany
The Times (U.K.), October 10
Power dressing in politics: from velvet gloves to velvet boiler suits
Times of India, June 22
Politics is Hot!

The Washington Post, July 19
Opening a Conventional Closet In Quest for a Supreme Robe

BLOGS -
"The Most Fashionable Museum
in New York City."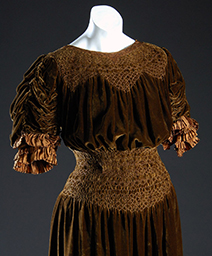 Liberty of London, dress, brown silk velvet, circa 1910, England, museum purchase.
The social and political landscape in the early twentieth century was fundamentally changed by progressive movements like woman's suffrage, as well as epic events such as the First and Second World Wars. During World War II, national commitment to the cause was sartorially expressed in a variety of ways—from the functional denim jumpsuits worn by real-life "Rosie the Riveters" to the military uniforms designed by American couturier Mainbocher for enlisted members of the U.S. Navy WAVES division.
Dress, white cotton with red "IKE" print, circa 1956,USA, museum purchase.
Postwar America saw a rise in the development of the suburban lifestyle. Much of popular culture encouraged women to relinquish their wartime jobs and focus again on family—promoting social roles for women that were, to a degree, reminiscent of the nineteenth century. Fashions such as Claire McCardell's famous "popover" dresses were designed for a range of women's domestic activities—from cooking to at-home entertaining—enabling women to stay chic while keeping house. The teenager also emerged as an important cultural and consumer force in the 1950s, setting trends in music and fashion. Yet beneath the bright suburban façade existed tensions—an intense fear of Communism, the beginnings of youth rebellion, sexual repression—that were poised to explode in the 1960s.