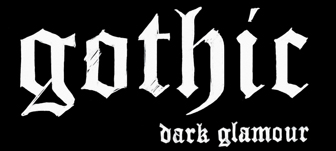 Opening Reception Video Transcript
Hi. I am Alex Joseph, the managing editor of FIT's alumni magazine, Hue. Tonight we're going to the opening of the Gothic: Dark Glamour show, here at The Museum at FIT. We're going to see some sensational outfits tonight. There will be no backwards baseball caps or fanny packs. This is going to be serious, heady, intellectual fashion and style. But I'm not going like this….I'm going like this.

Alex: Can you tell me something about who you're wearing?

Valerie Steele: Comme des Garçons and Victorian mourning jewelry. Gothic fashion is any kind of fashion that contributes to a gothic narrative. Or evokes it. The stories we're telling in the show have to do with night and the laboratory and the ruined castle, the deranged mind, the beauty and horror.

**
Alex: Tell me who you're wearing.

Woman in Red: This outfit was designed by Kambriel. It is a purse and a cape, very dramatic, as well as a skirt, in fabulous harlot red.

Alex: Congratulations. You look smashing.

Woman in Red: Thank you.

**
Man in Purple: I am dressed in a Kambriel design. It's styled after a Japanese kimono. Every culture has a dark aesthetic to it.

Alex: What's the material? I don't know what it is; it's just cool.

**
Kambriel: My name is Kambriel and I'm one of the featured designers. This outfit was inspired by my great grandfather. After World War II and the nuclear bombing he actually went over there to reforest the country. I was trying to use the Asian theme, with the trees. Embroidered silk and sequined Chantilly lace. This one is a bit inspired by Edward Gorey. It's kind of my evil garden come to life. It's wired organza and beads.

Alex: Fabulous

**
Robi: I'm Robi Diana from Arkivestry. This is Karen Fleisch from Arkivestry.

Karen: He's my partner. We have a couple of pieces in the show. Arkivestry is a line of clothing that we've been doing since 1986. We were kind of on the forefront of the gothic scene before it (inaudible). We do frock coats and corsets and capes and all kinds of things like that.

**
Girl one: This is a waist cincher, a vinyl miniskirt, leggings and Devonia boots.

Girl two: And then the rest are just pieced together with random things that I found, here and there. That's all.

Guy with goggles: A Subterranea ruffled shirt, with skin graph suspender holsters with skin graph garter with couture leather-lace pants.

Jill: The rest of the ensemble is just kind of thrown together with things from my closet.

Man in hat: I collect tribal clothing and jewelry

Man in fur: Men are ridiculously horrifically limited. So it's a natural thing that they would bust out into something beyond the standard male clothing.

Man in white shirt: These are one of my pieces. These are original shoes that…..[cut off]

Valerie: Gothic is a theme which emerges and then submerges again and reappears but it's become very much a part of contemporary popular culture.