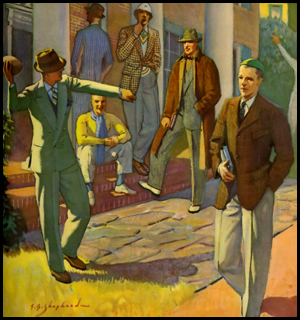 "Ivy style" is one of the most enduring and recognizable sartorial modes in the world. It began as the "Ivy League Look" on the quads and in the libraries of elite, all-male, American universities, and consists of a small repertoire of classic items, such as Shetland tweed jackets and Oxford button-down shirts, plus the more casual madras shorts and khaki pants. Ivy style migrated successfully from the college campus to the realm of international fashion, where it has been appropriated by a wide range of designers and contemporary clothing companies.
For all its popularity, Ivy style is often viewed as a conservative, even static, way of dressing. Yet Ivy was a cutting-edge look for much of the 20th century, from the early 1900s to its mid-century heyday. Before World War II, elements borrowed from the Englishman's wardrobe, such as tweed jackets and polo coats, were modified and redesigned by pioneering firms like Brooks Brothers and J. Press, and then were re-conceptualized by students at schools such as Harvard, Yale, and especially Princeton. After the war, Ivy style began to incorporate elements of dress from a new demographic of college students—mainly working class GIs—and its appeal spread beyond the campus to a diverse population that included jazz musicians. Ivy fell out of favor during the late 1960s, but since its resurgence in the 1980s, has become more popular than ever.
Purists may bemoan the ways in which Ivy (now often referred to as "preppy" style) has been reinterpreted. Yet this classic look has stood the test of time and has thrived for decades precisely because its elements can be tweaked and even upended without losing their distinctive, spirited essence. That is the ultimate testament to the quintessential American look called Ivy style.