1760 - 1900
His & Hers compares men's and women's clothing from the eightenth century to the present, highlighting their differences — and their similarities. The exhibition's chronology begins with a brocaded silk court dress from circa 1760, which is displayed alongside an elaborately embroidered velvet man's suit from circa 1785. At that time, aristocratic dress for both men and women featured luxurious fabrics and lavish adornments that are today usually considered "feminine." With few exceptions, men continue to eschew overly decorative garments.
The opulence of the eighteenth–century suit provides an interesting counterpoint to the sober fashions that began to dominate menswear by the early ninetenth century. Throughout the Victorian era, men's clothing was believed to be serious and practical, while women's clothing was associated with narcissism and frivolity. Period journalism perpetuated these stereotypes, treating women's interest in clothing with scorn or, at best, bemusement. Harper's Weekly stated in 1857 that women were "springing eagerly, like so many trout, at the brightly colored bits of ribbon and feather" in shop windows.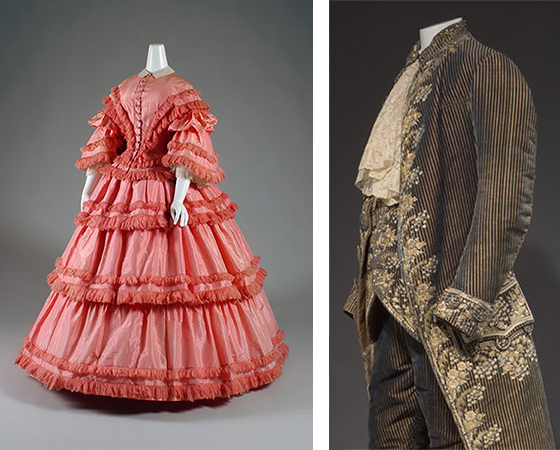 Hers: Dress, pink silk taffeta and fringe, circa 1857, USA, museum purchase.
His: Man's court suit, green striped velvet with multicolor embroidery, circa 1785, France, museum purchase.
.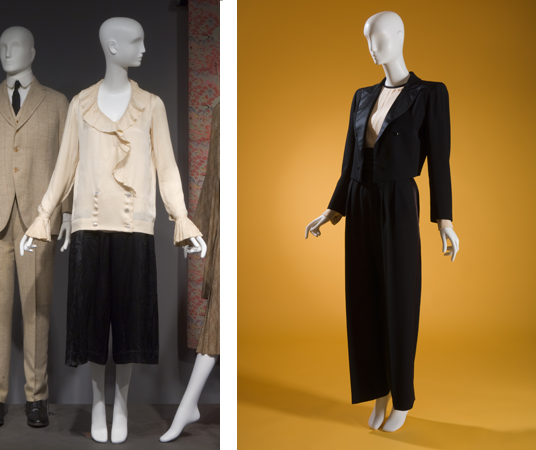 Hers: Woman's two-piece ensemble, cream and black satin, circa 1925, USA, Gift from The Dorothea Stephens Wiman Collection.
Hers: Yves Saint Laurent, woman's tuxedo, black wool, black satin, ivory silk, circa 1982, USA, gift from The Estate of Tina Chow.
1900 - 1950s
In the late nineteenth century, women began wearing bloomer-style trousers or divided skirts for sporting activities. Even though these bifurcated garments were limited to sportswear, many observers were shocked to see women in trousers. Lounging and evening pajamas were still considered provocative in the 1920s and 1930s, but the acceptance of pants for women became one of the most significant fashion developments of the 20th century, and by the 1970s, Yves Saint Laurent's sexy variation on the man's tuxedo epitomized the chic modernity of a woman in pants. By the end of the century, women were freely wearing trousers for all but the most formal occasions.
The option of wearing trousers aside, however, many traditional notions of "feminine" dress remained intact throughout the 20th century. The slinky, bias-cut gowns of the 1930s emphasized a lithe yet shapely body type. In the 1950s, Christian Dior's New Look launched a return to ladylike dresses with an hourglass silhouette, which contrasted sharply with the boxy, angular suits that were fashionable for men. Yet hyper-feminine clothes were not the sole option for women. Stylish sportswear for both sexes was also available.
.
1950s - 1970s
Women often borrow elements from men's clothing — and have done so for centuries — but men rarely appropriate women's styles. Even during times of "revolution," menswear usually consists of conventional garments such as suits, updated with ostentatious materials or rendered anew in slightly altered silhouettes. In the 1960s, the most daring men wore clothing by labels such as Mr. Fish, which combined boldly patterned fabrics with meticulous tailoring.
Inspired by the changes that took place during the 1960s, designer and social critic Rudi Gernreich predicted that all clothing would be unisex by the year 1980. However, even at its peak of popularity in the late 1960s and early 1970s, unisex dressing never really became more than a fad, and even "utilitarian" jumpsuits could not mask the differences between male and female bodies.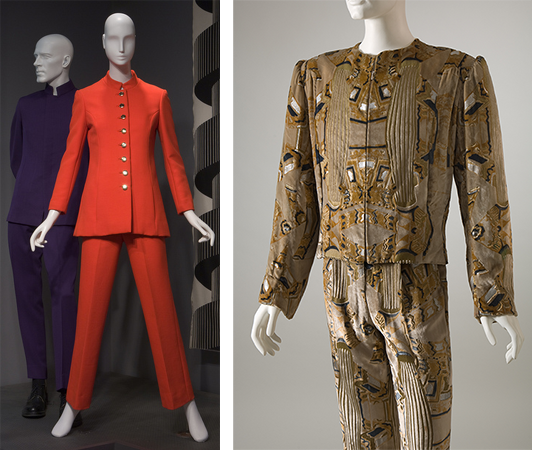 Hers: Tape Measure, woman's Nehru suit, red wool, irca 1967, USA, gift of Miss Helen Hess In Memory of Audrey S. Hess.
His: Mr. Fish, man's suit, stenciled velvet, circa 1970, England, museum purchase.
.
Hers: Yves Saint Laurent, suit, checkered wool, silk charmeuse, fall 1983, gift of Roz Gersten Jacobs.
His: Miami Vice, man's suit, white linen, magenta cotton knit, aqua cotton, 1989, USA, gift of Universal City Studios.
Contemporary
By the 1980s, the growing presence of women in the workplace coincided with the creation of women's "power suits." Executive women sought to balance power and professionalism with femininity, while avoiding overt sexuality. Meanwhile, some men's fashions of the decade embraced a softer, more deconstructed silhouette, sometimes even rendered in pastel hues. In the 1990s, designers such Franco Moschino and Jean Paul Gaultier approached gender stereotypes with irreverence and wit. Gaultier, in particular, has produced a number of skirts for men. However, despite the fact that men in some parts of the world wear kilts and sarongs, Gaultier's men's skirts have not found acceptance in mainstream fashion.
.
.
Gender barriers are less rigid today than they were in the past, but most runway collections are still clearly categorized as menswear or women's wear. When designers do cross gender boundaries, it is often simply a function of style, rather than social commentary. Some, however, consider bridging the male/female divide to be fundamental to their work, and these designers continue to explore the conventions of gender and to challenge exclusive definitions of "his" or "hers."
Colleen Hill and Jennifer Farley

Curators, The Museum at FIT
.
Alexander McQueen, evening dress, leather, silk, and tulle, fall 2008, France, museum purchase.
.