.
Overview
Human impact on the environment has been a source of intense emotion and debate for nearly five decades. As pollution spreads and natural resources diminish, people are becoming increasingly conscious of the adverse effects that an ecological imbalance can have on their health and well-being. Current initiatives by various industries to stop, to lessen, and to repair the damage being done to the environment are not merely conscientious—they are crucial.
The fashion industry has received no small measure of criticism for the environmentally destructive consequences of its practices. Each stage of the clothing production cycle can do harm—from the cultivation of raw fibers to the shipment of the finished garment—and the rapid pace of the fashion cycle compounds the problem. Also, the value of clothing has changed—and not, as exponents of eco-fashion would argue, for the better. Once a revered commodity, fashion is now all too often considered disposable.
Increasing awareness of the fashion industry's environmental impact has led to several exhibitions and publications concerned with eco-fashion. Usually omitted from the discussion, however, has been the industry's environmental and social impact prior to the mid-twentieth century. Yet an understanding of the past is critical to our grasp of the present. By examining the past two centuries of fashion's bad (and occasionally good) environmental and ethical practices, Eco-Fashion: Going Green provides a historical context for today's ecofashion movement. Presented chronologically, contemporary methods of "going green" are used in this exhibition as a framework for studying the past.
Eco-Fashion: Going Green identifies six themes within the eco-fashion movement. Each object in the exhibition is associated with at least one of those themes. This is indicated by means of icons that appear along with the images of objects from the exhibition. Select the icon for more information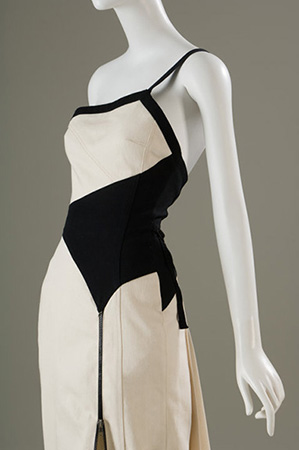 Edun, evening gown, black and off-white organic Tunisian denim, 2007, USA, gift of EDUN.


A prominent eco-label, EDUN was founded in 2005 by rock musician Bono and his wife, Ali Hewson, who in 2006 told The Times (London), "I really don't want to wear clothes created from someone else's despair." Central to the brand are strong ethical principles of fair trade and connection to the communities—many in Africa—that produce organic cotton.
.