.
Press
Press for Eco-Fashion: Going Green
Fashion Windows / April 6, 2010
Eco-Fashion: Going Green
Black Tie Magazine / April 19, 2010
Eco-Fashion: Going Green
Cityist / By Sharon Pizzola, May 3, 2010
Eco-Fashion: A History Lesson
Launderette: Cleaning up dirty fashion / May 17, 2010
The Museum At FIT - Going Green
Sartor Resartus / May 23, 2010
WHAT IS ECO-FASHION? The Fashion Institute of Technology's upcoming exhibition provides some insight.
Treehugger / May 24, 2010
Green Fashion Exhibit at FIT Examines 200 Years of Clothing Manufacturing (Slideshow)
Vogue.com / May 27, 2010
Gone Green: John Patrick of Organic Visits the Museum of FIT
Sparked / May 28, 2010
Eco-Fashion: Going Green
Sundance Channel / By Jeff McIntire-Strasburg / June 2, 2010
Eco-fashion: off the runway, and into the exhibition hall
Fashion Projects / June 3, 2010
Gone Green Long Ago
Artinfo: Museum views / June 14, 2010
A Sartorial Consciousness – Eugenie Dalland on ECO-FASHION: GOING GREEN
Haute Verte Couture: Eco Fashion / June 15, 2010
FIT and Eco Fashion
The Shoe Dish / June 18, 2010
Eco Fashion: Going Green
Museum Hopper / June 22, 2010
Fashion institute of technology (fit) museum
Los Angeles Times / June 27, 2010
Fashion Diary: Eco-fashion has gone in and out of style
Luxeco Living / By Jessica Borges, July 1, 2010
Eco-Fashion Trends Over the Years
ENCORE – performing arts magazine / By Nicole Zac, July 5, 2010
Saving the Enviroment, One Dress at a Time
Fashion Industry Network (VIDEO) / July 7, 2010
A Trip To The FIT Musuem: "Eco-Fashion: Going Green" Exhibit
The Year of Living Fabulously / July 18, 2010
Fashion Institute of Technology – Eco-Fashion: Going Green
Feel good style / July 19, 2010
Eco-Fashion: Going Green at the Museum at FIT in New York City
Feel good style / July 19, 2010
Eco-Fashion: Going Green at the Museum at FIT in New York City
The Hauty Toddy / July 28, 2010
Eco-maniac
DNAinfo.com / August 16, 2010
FIT Tour Looks Back at Garment Industry Before Going Green was Fashionable (slideshow)
Bloomberg news / By Lili Rosboch / Aug 31, 2010
Beatle, Bono Babes Dress Up Your Conscience at Eco-Fashion Show: Review
Psychology Today / By Gayil Nalls, Ph.D. / September 26, 2010
Fashioning a Socially Responsible Society: Eco-fashion Couture Culture
560 Parsons School of Fashion / November 12, 2010
Last Call: Eco-Fashion Show at FIT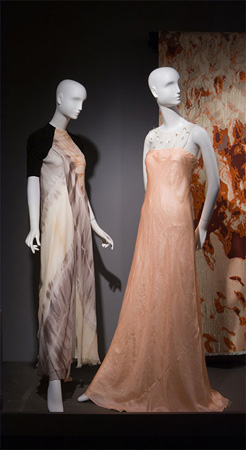 Linda Loudermilk - Cloud dress - Bamboo fleece, printed silk chiffon - Spring 2010 - Museum purchase, 2010.45
Influential eco-designer Linda Loudermilk carefully sources the materials she uses in her luxury eco® garments. She is committed to working with fabric and fiber manufacturers who strive to minimize fashion's environmental impact. Loudermilk has also developed a campaign—the "Luxury Eco Stamp of Approval"—to help shoppers identify other high-end, environmentally friendly products.
---


Isoude - (Katie Brierley) - Eirene evening gown - Coral tussah silk, Mabe pearl shell - 2010, USA - Gift of Katie Brierley, 2010.18.1
Katie Brierley combines her sophisticated aesthetic with a thoughtful approach to design. The tussah silk—harvesting of which does not harm the silkworm—was woven on antique looms in India and hand-colored by Cheryl Kolander using a natural Madder root dye. The subtle chevron embellishments, made by the Zanzibar Women's Pearl Shellcraft Cooperative and jeweler William Elliot Drake, utilize portions of the Mabe pearl shell that are usually discarded.
---

Hil Driessen - Reef - Furnishing fabric - Mercerized cotton and viscose, computer jacquard - 2003, Into Focus collection, The Netherlands - Gift of Hil Driessen, 2005.79.1
Reef was intricately woven using computer aided design (CAD) to create the pattern and operate the jacquard loom. The textile was included in Porcelain Cabinet—an installation by Driessen and spatial designer Toon van Deyne—in which the artists reinterpreted, using cutting-edge technology, the "sumptuous aura" of seventeenth-century cabinets and the labor-intensive processes required to make them.
---
.